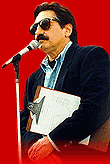 Support the Festival
by purchasing past Festival posters!
CLICK HERE!

Video by:
George Tyrogalas
Editing by:
Ken Kingsbury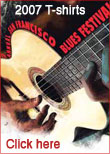 2008 Poster: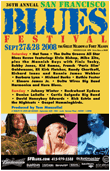 SFBF Producer:
Interviews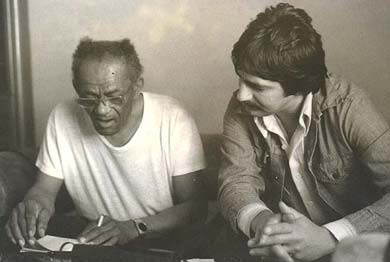 Tom Mazzolini interviews Oakland record producer Bob Geddins - 1977
Here is a list of blues musicians interviewed by Tom Mazzolini. These interviews took place from the 1970s to the present. Many have been published or heard on radio. The names are listed here for historical purposes.
Arthur Adams
Red Archibald
Billy Boy Arnold
Marcia Ball
Johnny Basset
Charlie Baty
Joe Beard
Lady Bianca
Elvin Bishop
Al Blake
Bobby Bland
Little Joe Blue
Big Bones
Roy Bookbinder
Brenda Boykin
Charles Brown
J.C. Burris
Tommy Castro
John Cephas and Phil Wiggins
Francis Clay
William Clarke
School Boy Cleve
Albert Collins
Big Roger Collins
Charles Conley
Cool Papa
Max Cooperstein
James Cotton
Jimmy Dawkins
Norman Dayron (Chess Records)
Floyd Dixon
K.C. Douglas
Big Joe Duskin
Honey Boy Edwards
Frankie Ervin (The Shields: "You Cheated, You Lied.")
Rick Estrin
John Firmin
Pat Ford
Steve Freund
Johnny Fuller
Lowell Fulson
Guitar Gable
Roy Gaines
Bob Geddins (Record Producer)
Blind Arvella Gray
Phil Guy
Ron Hacker
Bob Hall
Mike Henderson
Craig Horton
Mark Hummel
Herbie Herbert
Queen Ida
Bruce Iglauer (Alligator Records)
Dottie Ivory
Boogie Jake
Jessie James
Ernie Johnson
Big Jack Johnson
Johnny Johnson
Shirley Johnson
J.J. Jones
Detroit Jr.
Danny Kalb
Robert Kelton
Troyce Key
Al King
Sonny Lane
Frankie Lee
Lazy Lester
Don Lindenaur (Blues Connoisseur Records)
Little Willie Littlefield

Sarah Livingston
Robert Jr. Lockwood
Robert Lowery
Guitar Mac
Doug MacLeod
J.J. Malone
Harvey Mandel
Bob Margolin
Johnny Mars
John Mayall
Percy Mayfield
Jimmy McCracklin
Tom McFarland
Brownie McGhee
R.J. Mischo
Sam Mitchell
Geoff Muldaur
Charlie Musselwhite
Mark Naftalin
Kenny Neal
Paul Oliver (Author: The Story of the Blues; et al.)
Paul Oscher
Jackie Payne
Paul Pena
Rod Piazza
Al Rapone
Johnny Rawls
Kenny Blue Ray
Guitar Red
Jimmy Reed
Sonny Rhodes
L.C. 'Good Rockin' Robinson
Freddie Roulette
Otis Rush
Curtis Salgado
Geno Scaggs
E.C. Scott
Son Seals
Omar Sharriff
Johnny Shines
Rockin' Sidney
Fillmore Slim
Sunnyland Slim
Paris Slim
Gary Smith
Dave Specter
Willie 'Big Eyes' Smith
Chris Strachwitz (Arhoolie Records)
Angela Strehli
Big Walter Shufflesworth (Dynatones)
Finis Tasby
Little Johnny Taylor
Otis Taylor
Lafayette Thomas
Ron Thompson
Luther Tucker
Joe Louis Walker
Mississippi Johnny Waters
Katie Webster
Chick Willis
Kim Wilson
Mitch Woods
Mighty Joe Young
Rusty Zinn
---
Home Page | Archives | Feedback | SFBF Merchandise | Photo Portfolio | 2008 Performers | Producer's Bio | Sponsoring Opportunities | Tom's Radio Playlist | Critics Comments